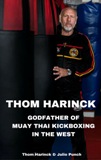 Been missing those updates? Your webmaster has been busy writing a book. It's the biography of Thom Harinck, the most successful kickboxing coach of all time. Click on the link below to order or for more information:
About me - the author of this site
Music
Albums you like?
Rock:
Love – The Cult
Pure Cult: The Singles – The Cult
Afrobeat:
Army Arrangement - Fela Kuti and Egypt 80
Africa Shrine - Femi Kuti and The Positive Force
Flute music:
Condor Meets The Dragon - Edgar Muenala
Fused - Michael McGoldrick
First album you bought? I Love Rock'n'Roll - Joan Jett and The Blackhearts
Last album you bought? Identity - Dele Sosimi
Favorite record store? www.amazon.co.uk
Three best concerts you ever saw?
The Cult at the Brixton Academy, 27 August 2001
Femi Kuti and The Positive Force in the Melkweg, 6 November 2004
Fela Kuti and Egypt 80 in Muziekcentrum Vredenburg, 3 November 1988
First concert you ever saw?
Tony Allen (former drummer of Fela Kuti) in the Melkweg (Milky Way), Amsterdam on 11 March 1988
Last concert you saw?
Oumou Sangare in Muziekgebouw aan 't IJ, 26 April 2017
Books
Books you like?
Fiction:
Nacht über der Prärie (Night over The Prairie) by Liselotte Welskopf-Henrich (my favorite all time novel. I read it about 20 times)
The Woman in White by Wilkie Collins
Aztec by Gary Jennings
Wachtmen by Alan Moore
Non-fiction:
1491 by Charles C. Mann
Tao of Jeet Kune Do by Bruce Lee
The Power of Now by Eckhart Tolle
Bookstore you like? www.amazon.co.uk
Magazines you like? De Kiva and Ringsports
Film
Movies you like?
The Woman in White
JFK
De Vierde Man
Picnic at Hanging Rock
The Last Wave
Bloodsport
The Day of The Jackal
A Touch of Zen
The Year of Living Dangerously
No Retreat, No Surrender
Once Were Warriors
Movie director you like? Peter Weir
Actor you like? Jean-Claude van Damme
Actress you like? Tara Fitzgerald
TV
Current TV show you like Lost, Fight Club on Eurosport
Classic TV show you like? The Tomorrow People, Blake's 7
Talk show or host you like? None
Comedy you like? The Young Ones
DVD
DVD's you like?
God, Guns and Government World Tour by Marilyn Manson
Game of Death (platinum edition)
Live at The Shrine - Femi Kuti and The Positive Force
Lifestyle
Artists you like? Jeroen Vogtschmidt, Thomas E. Mails, Frank McCarthy, Salvador Dali
Comic artists you like? Gene Day, Derib, Paul Teng, Servais, Mitton, Kalenbach and Vink
Poets you like? Linton Kwesi Johnson, John Trudell
Favorite museum? In the Netherlands: Wereldmuseum
Your favorite city? Amsterdam
A vacation spot you like? The America's
Car you like? None
People
A person you were excited to meet? Peter Matthiessen, Taky Kimura, Seun Kuti, Tony Allen, Femi Kuti
A person you would like to meet? Ian Astbury, Eckhart Tolle, Danny Inosanto
Comedian that you like? Rik Mayal
Fighting
Best Martial Arts event you went to? It's Showtime in The Arena, Amsterdam, 23 June 2008
Fighters you like?
Kickboxing: Ryan "Trubula" Simson
Various
Place of birth: Wivenhoe, United Kingdom
Date of birth: 5 January 1971
Current residence: The Netherlands
Occupation: Translator, teaching assistant, webdesigner
Education: Philosophy and Cultural Anthropology at the Free University
Favorite food: Italian, Pakistani
Sports: Fitness, Running, Power Yoga, Hatha Yoga
Favorite animal: Wolf
Ambition: Translating books and maybe doing a bit of Indian Studies in the US
Other sites you made (besides this one)? www.dewindroos.com, www.dekiva.nl and www.afrobeatmusic.net.
Below: this is me at the stand of the Kiva at the Western Experience in Den Bosch, 2003. Right: with nephew Jimmy.